(Last Updated On: 19 July, 2019)
Four More Shots Please! (2019-)
FMSP
Release Date: 25 January 2019
Number of Episodes: 10
Starring: 
Sayani Gupta
Bani J
Kriti Kulhari
Maanvi Gagroo
Directed By: Anu Menon
Written By: 
Devika Bhagat
Ishita Moitra
Genre: 
Comedy, Drama, Romance
Because Feminism needs a canvas of bizarre slur words, the bad-ass narrative, and #girl power! to have its concept establish any substance.
About the Series:
'Four More Shots Please!' the latest arrival on the 'let's celebrate feminism!' table, is presented by Amazon prime. The story takes on the journey of four women characters, who meet ~as the fate desired~ at a bar. They lead distinctively different lifestyles, but come together to face their life hurdles with the power, and privilege of alcohol (four more shots, eh?).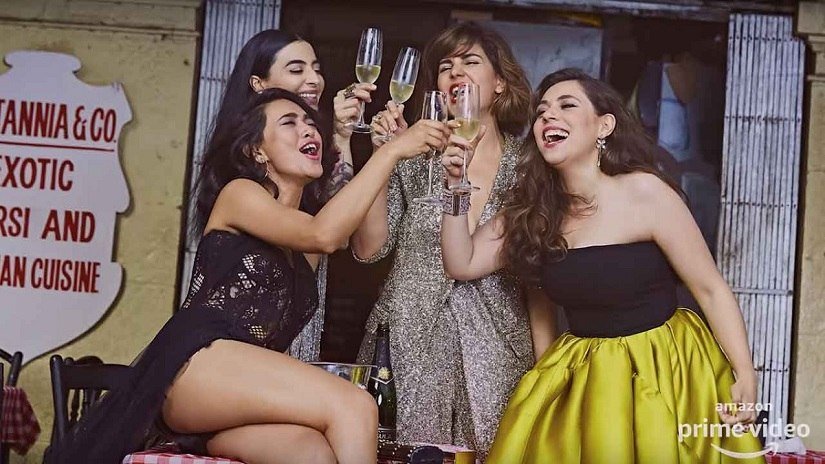 Source: Scoopwhoop.com
Plot
The series introduces characters such as Damini (Sayani Gupta), an independent career-oriented woman. She fights for her purpose, and leaves the backspace on any, or no man, in her life.  Anjana (Kirti Kulhari), is a single mother to her four-year-old daughter, having divorced her husband AND her sex-life years ago.  Umang Singh (Bani J), a bisexual woman, works as a gym instructor and falls in love with a girl 'who does not/can not see a future' for both of them together. Another character tied within the power of friendship is Siddhi (Maanvi Gagroo). She is a bubbly individual who faces societal standards of beauty (strict diets and fashion trends) – moulded within her mother's wrath to carve herself for a suitable marriage.
The four women come together as a unit of collective shoulders to lean on, cry, and rely upon, with each of their life hurdles.
Source: WordPress.com
This is what works, and what doesn't, in the series 'Four More Shots Please!'
What works
Well, to lay it all out through the sole perspective of an individual, a satisfactory fraction.
What doesn't work
The true portrayal of one's sexuality
With Umang, the show renders one's bisexuality real. Bisexuals are not confused people, the non-heteronormative narrative exists, and by introducing a woman identifying with her sexuality (and an open sexual desire), the show establishes her narrative in solid, concrete form. It's there, you don't have an option to say it's not.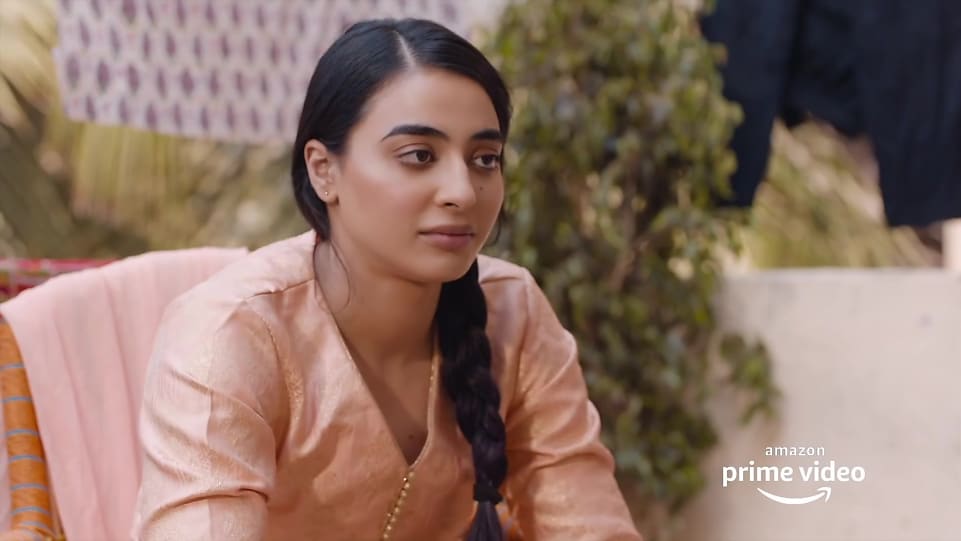 Source: Charmboard.com
It also allows us to see the many struggles that a queer person still faces in the public domain. The show deals with Umang's story and tries to showcase the varied realities of women from different backgrounds.
The Struggle
The show, with an emphasis on women portrayals, gives an almost decent output of life's many difficulties/struggles to move forward. Anjana, although is a strong single mother, finds it difficult to grow out from the grasp of her past. The audience emphasis on her struggle to balance her professional and personal life.
Source: Amazon.com
The Acting
The actors, with their convincing performances, have brought their complex characters to life. From Sayani Gupta's fervour in her role of a journalist to Kirti Kulhari's honest and raw scenes, the actors perfectly fill up the spaces that the show needs.
The Feminism. Um, or more so the Attempt at Feminism.
Scroll at the beginning of this review, a fair glimpse of how feminism is portrayed as is glanced upon. To bring forth the idea of feminism, one doesn't need to use the same keywords: alcohol, parties, cuss words, sex; layered with the modern lens of 'YAAAS EMPOWERMENT!' No. Because beneath this surface, still lies feminism, pointing ''yeah, that's not me'' at its innumerable representations.
Sure, parties and strong abusive language may count in as the choice of women portrayal for some, but to specify that choice and identify the whole as an integral aspect of feminism? That ain't it. Feminism is much more than that.
Source: Amazon.com
When the show deals with labels such as 'virgins', 'slutty Savitri', the poor judgment at one's worthiness (in parallel to the supposed theme of feminism), reinforces the same social constraints that the show aimed to destroy. Feminism peaks when women have the power to acknowledge who they are, but when they end up choosing alcohol, sex, and the artificial connotations of being a 'feminist', OVER their own agency? Feminism Error 404: Not Found.
The Characterization
The four protagonists' potential is apparent, but does the show succeed to achieve that? Certainly not. The four women are compelled to be flawed but their complexities are rarely realized. The character of Damini (a journalist) has significant potential but throughout the season we fail to see the show achieve anything near her possible peak. The women protagonists are still drowned under the same constructive measures of what it means to be a 'feminist', and not what their true characters can serve to be, or what they can achieve. And that's where the show fails.
Source: Hindustantimes.com
'Four More Shots Please!' does carry good intentions, has a disruptive start with an uncanny plot episode (that fails to set the narrative in motion), but it slowly moves to form itself, with an emphasis on the characters' lives, their relationships, and their (limited) growth.
Four More Shots Please! is available to stream on Amazon Prime.
Read Also: