(Last Updated On: 19 July, 2019)
Kaafir (2019-)
KF
Release Date: 15 June 2019
No. of episodes: 8
Starring:
Dia Mirza
Mohit Raina
Dara Sandhu
Abhiroy Singh
Suhail Sindhwani
Dishita Jain
Directed by: Sonam Nair
Written by: Bhavani Iyer
About the series
The aftermath of India-Pakistan partition and the main territorial dispute over Kashmir are topics we all are well aware of. Many movies, TV shows, short films, theatre plays render this theme of division into their stories or performances. Following the same theme is Kaafir, a ZEE5 presentation. The web series bases its story on a Pakistani woman and an Indian journalist. The woman, after having crossed over the Indian side of the border, is declared a militant. The story is set in Kashmir, where she, along with her daughter, is being held prisoner. An Indian journalist-lawyer comes to her aid, with the sole purpose of bringing her justice.
Source: Imdb.com
The series is a reflection of a true story from 2005.
Plot
'Kaafir' follows the account of  Kainaz Akhtar (Dia Mirza), a woman from Pakistan-occupied-Kashmir. Due to circumstances, she finds herself on the other side of the border, where she is taken as a militant. She tries to fight for her innocence. But she is made a prisoner for eight years, alongside her daughter. She loses all hope to return to Pakistan. When a lawyer-journalist Vedant Rathod (Mohit Raina) comes to know about her story and decides to help her.
The series talks about the ongoing inter-state conflicts' consequences.
Source: Imdb.com
The story is a fight against injustice. For freedom and innocence. It's against prejudices. And hatred.
What works?
What does not work?
The Story, the power of its message.
Are you a nationalist? Do you conform to the nationalist ideologies of our current political climate? What exactly does nationalism even mean? For every citizen of a 'secular' country, what it holds to be a nationalist may differ. But with no uniform code on nationalism, why do we still feel threatened to be tagged as an 'anti-nationalist'? Why is there violence, hatred attached to it?
Kaafir challenges what it means to be a human, versus what it means to be an Indian/a Pakistani. No, you don't have to wage one for another.
Source: Imdb.com
The series does so with Kainaz and Vedant. And their united fight against the repercussions of prejudices, discrimination, and extreme nationalism. A Hindu joining the case of a Muslim, irrespective of Inter-state relations. The message is right there. It stands for the need to not lose one's humanity/ kindness- just to wear the artificial pretence of nationalism. The inter-state 'rivalries' affect both sides. To dismiss that is being ignorant.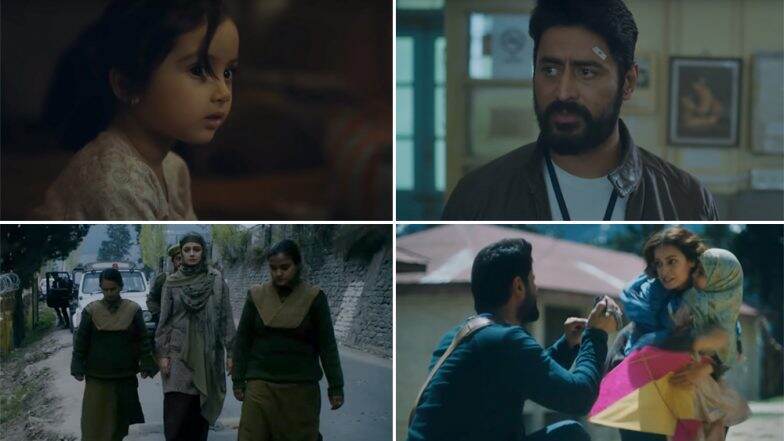 Source: latestly.com
The Cinematography
On the backdrop of Kashmir's landscape, we see the beautiful scenic beauty capture our hearts and attention. It draws on Kashmir's natural aura effortlessly.
Source: scroll.in
When Kaafir is playing onscreen, we can't help but feel its constant prettiness.
The acting
Mohit Raina is amazing as Vedant, the lawyer with a purpose. He pulls off his role well. And we are delighted to have him play his character as he does. Even though Dia Mirza's character is mostly in shambles in the web series, her acting is better apparent in the scenes that bring out her character's strength.
Source: quint.com
The Story-telling
Kaafir has a good plot to work upon. But with detailed emphasis on non-contributory scenes, we start to lose the connection quite early. The importance doesn't lay where it should. And the web-series doesn't quite add up to its potential.
Source: thequint.com
The Representation of Kashmir's state
We all know that a lot is going on in Kashmir. Both on the ground level, but also the structural-state level. But the show fails to highlight the issues that largely violate Kashmiri lives.
Source: amazon.com
Here, the representations don't do justice to Kashmir's reality.
Above all, Kaafir delivers on a strong subject of the true effects of conflict, and hatred (derived from political gains), over humans. It's compelling, it's challenging. Given a platform, good work.
Kaafir is available to stream on ZEE5.